It's been 12-months since the US Association of National Advertisers produced its landmark report on media transparency. Tom Denford, Chief Strategy Officer at ID Comms, reviews what's changed in the last year and what changes we should expect still to come.
The ANA's report was big news when it was first published on 7th June last year. In the hurly burley of our daily search for advantage, however, even the biggest reports can all to easily slip into the to do tray and start to gather dust.
But as the ANA's Bill Duggan points out in a great article marking the one year anniversary, he is still "amazed when an ANA member tells me they are unaware of the media transparency issue…there is till more work to do"
But generally the attention paid to this ANA report has been unprecedented and I think there are some areas where it has already had and will continue to have an impact.
I'm going to look at seven areas (stick with me) where we have noted significant change and predict how the ANA's Transparency work will drive further changes across the industry in the next 12 months.
I'm using what we call the 7Ts - the seven critical media behaviours of successful marketers - which is the filter we apply to the complex media function to help marketers identify and prioritise action and change in their organisations.
Media Transparency
The major shift in the area of transparency has undoubtedly been the huge amount knowledge gained by marketers thanks to the ANA's forensic research and analysis with K2. What's changed in marketers' attitudes and behaviours has been a big uptick in those conducting audits both of media pricing and contract compliance. This has established new behaviours for marketers to hold agencies to greater account. In the future we will see this evolve into a more holistic approach to accountability; linking agency buying performance, compliance, service delivery and quality of work into performance based payment models. Promoting full transparency as a core requirement of good agency service. We have seen this take hold in media pitches and have been advising advertisers to demand greater transparency as a condition of entry to major media pitches.
In research conducted by ID Comms into Media Transparency last year, we found that 80% of advertisers agreed that issues around transparency are highly influential in determining the levels of trust between advertisers and their media agencies
Media Talent
The most significant and immediate changes in Talent, by that I mean people and structures, have been on the agency side. Media agencies do seem to be struggling generally to attract or retain the top talent. In our pitch work we often see the same people presenting and so we have changed our processes to ensure that clients do see the people who are going to actually be working on the business.
Where we have seen major change is in agency leadership in companies like GroupM and MediaBrands, we've seen the development of new innovative agency structures at Omnicom and Publicis and a broad rethinking of how agencies can best serve the needs of advertisers. These changes have been really positive and signal that the agency world has listened carefully to the changing requirements of advertisers.
Along the way we've also noted advertisers investing in new leadership roles for media, most significantly those appointing Chief Media Officer roles as per the ANA recommendation. If not actually 'Chiefs' by title, such as the appointment of Gerry D'Angelo to the new role of Global Media Director at P&G, these new global leaders are designing better governance over media investments and taking a more strategic view of how media is managed and the role that agencies play in support of that vision.
Looking ahead we will continue to see more executive level oversight of media dollars, with more advertisers employing experienced media specialists (often from agencies) and increased attention by CMOs in how they company is investing in media
Media Terms
The way agencies get paid (and indeed how long it takes them to get paid) is one of themost influential factors in agency performance and the value that they can add.
The most immediate reaction to the ANA report has been that advertisers have dug out their agency contracts and reviewed three things:
- how their agencies make money
- what level of transparency is provided
- what rights the advertiser has to audit the agency.
This has probably been the single most consistent reaction to the ANA findings. Some advertisers having reviewed their contract works for he first time in many years. This has led to the renegotiation of terms in many places, some advertisers hitting the headlines late last year with rumours of financial settlements being secured as a result of audit findings and renegotiations.
In the 12 months since the ANA report we've experienced many advertisers also looking to overhaul the agency payment model, moving away from a blunt commission model to more sophisticated methods of performance incentives to drive the right, transparency behaviours on the agency side.
At ID Comms we believe that aligning the interests of advertisers and their agencies makes for a better relationship, with both sides working towards the same goal and are rewarded fairly for their progress.
New ANA research released in May has found greater senior executive involvement in decision making around how to pay for external resources. This is a positive move that should lead to more progressive payment models and more scrutiny given to how external agencies are performing and held accountable for performance.
The research questioned 84 ANA members and suggested a decline in performance models, although that is the opposite of that we've experienced in our work with large advertisers around the world. We anticipate more use of performance models for agency compensation. In the next year we also expect lawyers to get very busy drafting new contracts for media agencies based on the string templates issued by ISBA in the U.K. and the ANA in the US. These upgraded contracts will enforce new rights of transparency and disclosure and improve the rights of advertisers to audit agencies more thoroughly. We expect ISBA and ANA to look to update these templates further and include clear codes of conduct (non-binding) which clearly outline the role the agency is expected to play and the values and principles they are expected to uphold.

Media Training
One of the strongest contributing factors to the situation described in the ANA report was the gaps in media knowledge within marketing organisations. This was clearly called out as something which advertisers needed to address to rebalance power and be able to take back more control of media decision making. This area has taken more time for advertisers to address, it's hard to identify gaps in knowledge and we've experienced brands wanting to undertake capability audits to spot those gaps and design training to fill the needs. In recent months more advertisers have been investing in media training, some basic and general and some more advanced and bespoke. We expect this demand will increase as it becomes clear that all marketers need to have a basic understanding of the complex media function. Moving forward, we encourage advertisers to invest in creating an internal media community, which will allow shared learnings in media to quickly spread across the organisation and raise knowledge and capabilities quickly and cheaply.
In research conducted by ID Comms into Media Training last year, we found that 96% of all respondents believed that advertisers would gain competitive advantage in marketing by investing in media training.
Media Trading
The media buying market is continually changing but the major impact of the ANA's findings for most advertisers has been to understand the meaning of Principal versus Agent. Many advertisers didn't know the important distinction and how it impacts both the behaviour of the agency and the level of transparency afforded to the advertiser. Agency acting as Principal takes on the risk but also takes on ownership of the inventory allowing them in theory to mark up pricing without needing to make disclosure. It also allows them to profit from the gaps in payment terms between the date they bill the client and the date they pay the vendor. P&G have famously stated that all their agency agreements now need to be based on the agency acting as Agent only and "not allowed to make money on the float"
We have seen more advertisers demanding a fully disclosed model in the last year and as a result agencies have been developing and offering more transparency. Some of the more advanced advertisers are taking more control in the media buying decisions and developing their own media buying capabilities either using in house systems or licensing from independent third parties
In future we will see rapid changes in how media is bought and sold. As advertisers become more empowered by harnessing their own data and using analytics to determine the impact and value of media to their business KPIs, they will be well positioned to start to dictate media pricing themselves and will have the technology and tools to be able to do this. In turn the media selling market is likely to become more open, transparent and democratic as auction based buying becomes the norm. In this scenario the barriers to entry in media buying (which has been mainly about scale) come down and competitive advantage in media buying comes from data, analytics and insight. Things which advertisers are taking more control of.
Media Technology
The ANA report didn't make much reference to technology specifically but there's no doubting that tech is fuelling most of the change across the media industry and empowering marketers to make better, smarter and quicker decisions. One major impact is the increased demand amongst advertisers in the levels of accountability required of media investments and the quality of measurement and data accuracy. Here the ANA's findings have become a major catalyst for change, leading to wholesale raising of expectations that media dollars be better accounted for and that vendors measuring their own impact and closed to third party verification will have to cease. The media transparency action plan laid out publicly by P&G again address this head on; requiring all vendors to be subject to accreditation for their measurement. This has led advertisers in the last year to take more interest in how their media investments are measured and begin to support initiatives like TAG (Trust and Accountability Group) and the MRC (Media Ratings Council) standards.
In the next year we expect more advertisers to invest in data and analytics technology which allows them to bring together disparate digital performance data, verified by accredited third parties into dashboards which provide insights to guide strategic decision making for media investments. Some of these will be managed by their agencies, some in house depending on internal capabilities.
Media Thinking
Another one of the strong calls by the ANA was for advertisers to take a more strategic view of media, seeing it less as a cost to the business and more as an investment to drive a business outcome. This ties together many of the ANA recommendations as it requires advertisers to change many behaviours across the board, impacting procurement's role and focusing marketers on maximising the effectiveness of media budgets not just the cost efficiency of media budgets.
We have been excited to see many more major advertisers addressing this gap in the year since the ANA report and developing governance programmes internally. We've also noted a (small) improvement in the quality of briefing to agencies, with advertisers taking more time and energy to brief well, provide proper KPIs and evaluate agency planning work more closely.
The ANA report highlighted to advertisers that the way some agency media buying was structured resulted in some cases in the media plan being dictated not so much by what benefited the advertiser but rather what benefited the agency. When agencies can make undisclosed income from certain media vendors then neutrally this presents the risk that the media plan is optimised against agency income not advertiser effectiveness.
This heightened awareness of the risk has caused advertisers to apply more scrutiny over the agency planning process and put in place measures to improve briefing and the evaluation and approval of media plans. As a result I think we've seen better planning output from agencies.
Across the next 12 months, we expect to see more advertisers consider what agency structures suit their needs for the years ahead. We've been helping some advertisers change the shape of their media agency scope, in some cases working with independent media strategy firms separate from the big media agency buying groups. Others, who have built data and analytical capabilities are taking role in developing media stages themselves and relying on their agency for simple plan optimisation and channel planning before the media buy happens.
It's been a fascinating last 12 months in which we've probably seen more change than the previous 12 years. A large amount of this has been triggered by or shaped significantly by the findings of the ANA Transparency Report. It's created a new level of attention in companies over their media budgets, it's stretched and inspired us all to be better and it will create a positive legacy for the industry in the US and around the world. The report itself may have been regarded as a negative diagnosis of the industry, but its impact will be a wholly positive outcome and allow us all to be more excited about the opportunity of media and a bright future for this great industry.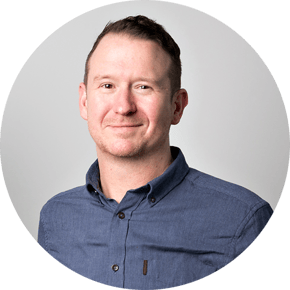 Tom Denford
Tom Denford is one of the world's most trusted advisors to senior marketing and procurement leaders on navigating media and digital transformation. With 20 years' experience in the marketing industry, which covers senior global roles in creative and media agencies, Tom co-founded ID Comms in 2009, with ambition for the company to be the world experts in maximising media value and performance.