Last Thursday, I was invited by the Festival of Media and ID Comms to deliver a keynote on an issue that is invisible but essential – sustainability in media. I have so much to thank Jeremy King and David Indo for giving me this colossal opportunity.


I've spent a lot of time thinking around the Media Sustainability issue and connecting trends. What I shared in Rome last week, I am hoping heightens our industry's consciousness. After all, media and advertising is a fundamental shaping force in how we get our news, how we make shopping decisions, and what medical treatments we pursue. To quote Charles Eames "eventually everything connects" and this is why delivering what I did where I did was important.

For the last five years, I've had the privilege and opportunity to drive a transformation at a global marketing organization that's created a better connected media operation that's fit for purpose, fit for speed, and fit for the future. I've also been fortunate in that Mars is an organization that prides itself on its purpose: The World We Want Tomorrow Starts with How Business We Do Today. And this behavior has strong foundation; Mars has a long history of this in the Five Principles, and as it relates to communications in the Mars Marketing Code.

But to quote my 6-year old son, "there's a lot of yuck in the yum" of media today and being a media leader is becoming increasingly hard.

The objects are only getting shinier…whether it's direct-to-consumer brands, a new technology like voice, or the debate of in-housing media (which is a conflated search for ownership)
The hurdles are only getting higher…we're on the backfoot with continual crises in brand safety, we don't have data portability out of walled gardens, and there's a misguided acrimony in the industry that is putting the ecosystem at risk.


There are fewer places to turn…TV is dying a slow death like the Ottoman Empire, digital has quality concerns, and media sellers are holding the industry back from truly agile cross-platform and audience-driven communications .

But we continue to have one-off conversations around this and what we see is individual bottles on our own respective beaches. I've been given the gift of time and perspective, and I want to give back to the industry I love – to connect what we are really seeing.


There are three fundamental trends that have gotten us to a point of unsustainability:


Business Pressures & Cost Controls
Media Audience Fragmentation & Revenue Pressure
Rapid Rush to Digitalize & Shifting Influence

But what have these trends connected to? What unintended consequences has it triggered?
Business Pressures & Cost Controls have created a False Bottom in media… In 2015 we saw media palooza put nearly $30B of media spend into review, in 2018 we saw $15B in review. The average advertiser may have seen a 19% savings in media and payment terms. In the same time period, we've seen the revenues of auditors Ebiquity and Accenture increase by 30% and martech firm revenues jump 10x. The problem is we are pushing money from center into the periphery where there is less light. Since 2015 advertisers are asking their media agencies for media inventory costs that are unattainable and are pushing for payment terms that make agencies a bank where clients can use a float for advantageous cash positions. This 'False Bottom' is a clear and present danger – a term coined by IDComm's Tom Denford at the ANA Trust Consortium. And worse is this is the fundamental breakdown that Douglas Wood of Reed Smith noted in agency and advertiser expectations; we've now focused our agencies on fulfilling a Draconian contract versus being the agent we hoped for in the media marketplace.
Media Audience Fragmentation & Revenue Pressures have created Fake News and Audiences…It's not a secret that audiences are fleeing traditional media with print and local journalism dying a fast death. So, the only way to respond is sensationalizing news, inventing news, or inventing audience and traffic farming. The problem is that we are industrializing yellow journalism at the speed of social to satisfy a need for advertisers, agencies and publishers to hit untenable goals around media reach, viewership and monetization. The numbers are telling and troubling; 50% of the audiences we reach in digital media are fake, and roughly 25% of the dollars invested are towards fraud. Ad fraud is eclipsing analog organized crime because it is easier and it is funding other organized crime practices any executive would run from.


Rapid Rush to Digitalize & Shifting Influence have created Walled Garden Opacity and Apathy…We have the rise of significant media platforms that challenge and eclipse paid TV/cable stations who hold their media and viewership and audience data away from advertisers and agencies. And while Scott Galloway et al will tell us this is part of their business strategy, advertisers and agencies are the ones left dealing with consumer data privacy and brand safety challenges. And according to DigiDay surveys, we will return to buy after every crisis. What's troubling with that asymmetry vis a vis advertisers and agencies is that it transcends into consumer experience, where it's estimated that 70% of content will be consumed according these platforms algorithms – and there's been a significant and steady stream of reports of what this looks like from concerned journalists at the NY Times and users of Reddit.

Turning back to the Eames reference I made earlier, there's a troublesome interconnection of these: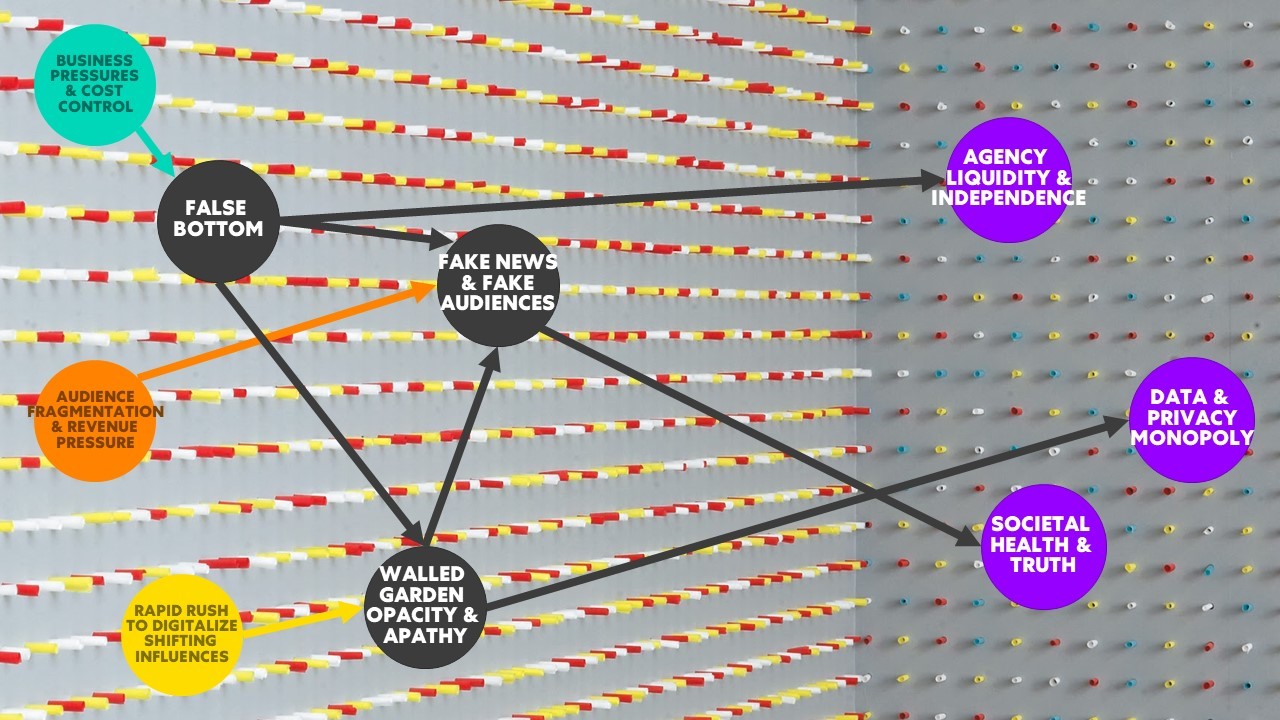 Interconnection of Media Sustainability - overlaid on work by Sol Lewitt Wall Drawing 38, 1970 [Mass MoCa]
An advertiser hell-bent on savings and equating reach at no cost as a competitive advantage will drive an industry to breaking point.

A starved agency won't have the staff to look into ad fraud, read multiple log files, won't have the clout to stand up to the duopoly.

Walled gardens with apathy won't have the editorial scruples to chase down or screen fake news and audiences, the election interference we've seen in the UK, the US, France, Israel, or even the mainstreaming of antivax agenda and the subsequent outbreaks we've seen

And we'll have real casualties in the ecosystem:


Agencies will lose their independence and their liquidity will be challenged if there's a rush on the media finance banks they've become
Consumers will increasingly lose privacy and fact-based journalism if tech platforms' algorithms continue to disproportionately influence socialization
The idea of societal health and truth will quickly erode with likes of deep fakes we've just only started to see over the last few days
And while the real ocean plastic epidemic has a very visible and emotive victim image that a 10-year old was able to rally large companies to act on, our victim – the victim of media's ocean plastic is nebulous and invisible. And the question is will we wake up and recognize this?

Because, as we can celebrate growth or competitive advantage from media as flowers today – they are dandelions – and in the future we will recognize them as weeds.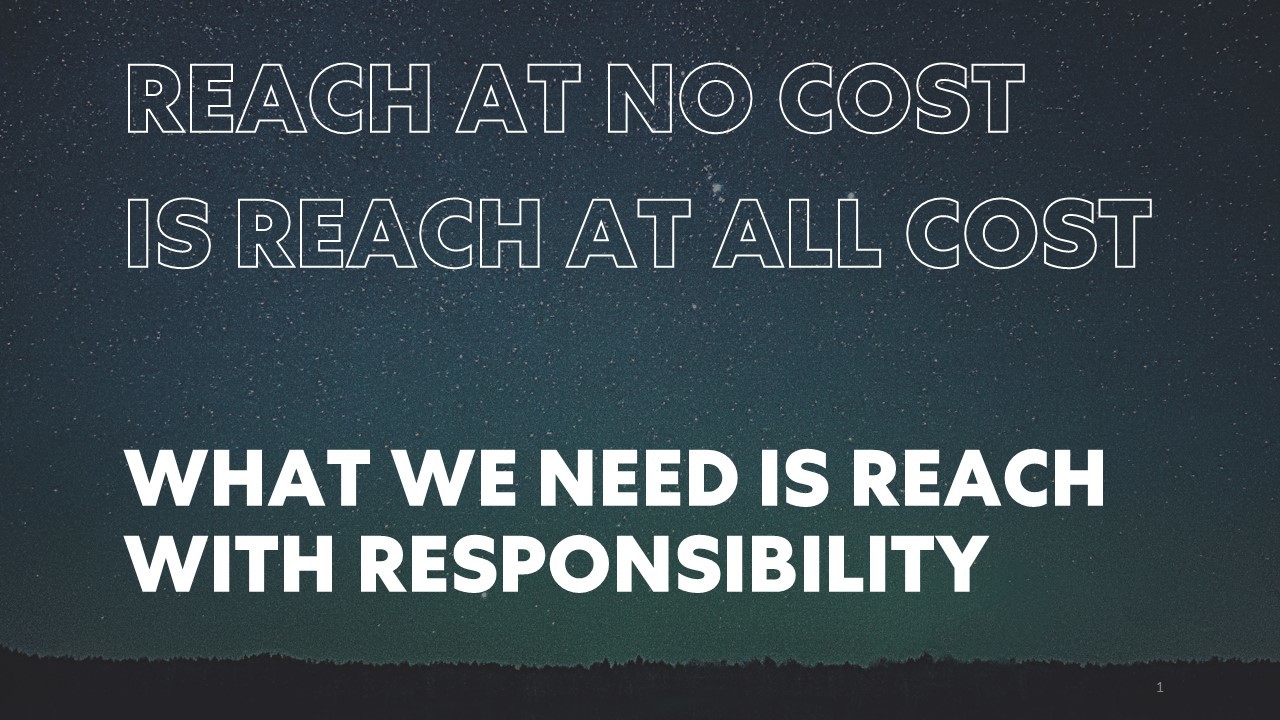 The media industry needs to adopt an oath – that reach at no cost is reach at all costs and what we need is reach with responsibility.
Beach cleanup – as we've seen in Versova Beach in India – takes time (96 weeks) and what I call 'uncommon collaboration' from activists, governments, and corporations.

And media can learn from these inspiring environmentalists, so:

Control and clean up what you directly control – drive sustainability and transparency in how you resource your agency, how you reward partners, how you invest in media properties. Ultimately you need the conditions and leading indicators to make sure that media sustainability is achieved.
Collaborate with the like-minded – create the conditions for uncommon collaboration to tackle issues that are connected and beyond your control. Ultimately the media ecosystem will need shared consciousness to embrace and tackle these challenges.
Influence the industry dialog and build alliances – shape a narrative that takes shared consciousness to the next level - action - to chase out media's ocean plastic and ensure that we are asking for and delivering responsible reach.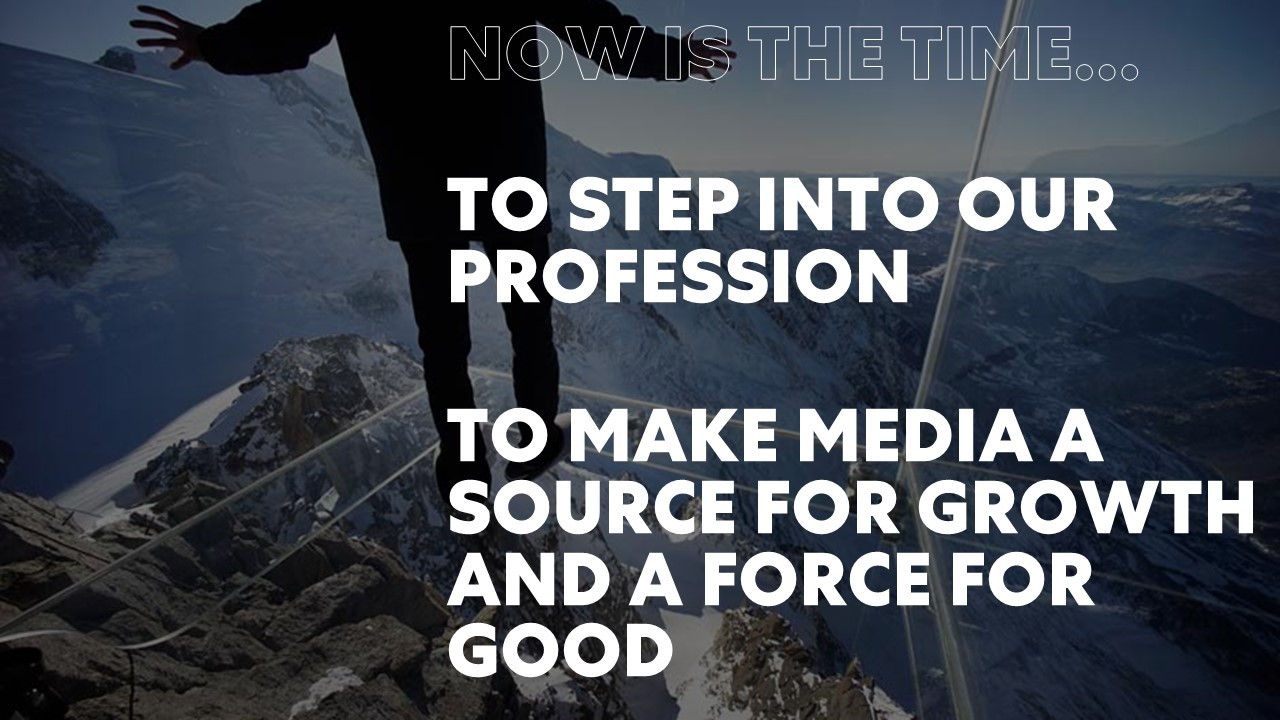 Now is the time for media leaders to step into their profession and to make sure that media is not only a source of growth but a source of good.
This is an important topic for marketing leaders, agency executives, leaders at publishers and platforms, industry associations, and regulators.

We need to safeguard communications and by extension free societies, and it all starts with what we can take responsibility for. I invite you to partner with me, if you're up for the challenge. I know I am.
Rob Rakowitz is a Global Head of Media @ Mars, Inc