If you are hiring a pitch consultant to support your team through an agency pitch they should have extensive and credible experience relevant to your requirements. They should also be well organized with a proven pitch methodology and be able to supply you with a clear project plan and templates for all the briefing materials and data collection.
"Surely we can run this media agency pitch on our own, how hard can it be?'' and ''precisely what value does a pitch consultant really add to the pitch process?''
These are questions that I'm sure most sensible marketing and procurement leaders have asked themselves at the beginning of a media pitch process. They are decisions that will have a huge impact on the way an organization prepares for one of the most important, commercially valuable yet potentially disruptive initiatives an organization could undertake.
ID Comms has been designing and managing high-profile media agency reviews for more than a decade. During that time, we have refined our understanding of how we contribute to business success by helping our clients select the right media agencies.
Here are our thoughts on how pitch consultants can add value to a media review process:
A CLEAR AMBITION - WELL ARTICULATED
A good media pitch consultant will begin by defining a clear ambition for the review, based on a deep understanding of the advertiser's media requirements both now and how they are likely to evolve over the next three years. This ambition will guide the development of the pitch architecture and influence the areas of importance, both strategically and commercially, so the process can stress-test the competing agencies in the right areas.

STAKEHOLDER ALIGNMENT - ALL THE WAY
A good media pitch consultant enables internal stakeholder alignment of key decisions early on in the process, such as; how agency performance will be evaluated, the relative weighting of each component and, importantly, the voting protocol by which the final decision will be made. The ability to navigate hidden agendas, corporate sensitivities and politics, whilst also ensuring that all client teams feel invested in the process and are comfortable with the approach can make the difference between a successful review and one that is riddled with internal squabbling.
WELL-ENGAGED PROCESS - WITH COMPETITIVE TENSION
A good media pitch consultant is able to design a pitch structure and process that purposefully engineers a gradual increase in competitive tension as the agencies progress through the review, culminating in the final stages of negotiation with a shortlist of candidate agencies open and able to commit to the bespoke demands of the client.
TRANSPARENT & ACCOUNTABLE - FAIR TO AGENCIES
A good media pitch consultant is open, transparent and highly respectful of the competing agencies, enabling the agencies in a fair and consistent way to best prepare for pitch success by providing them with a platform to showcase their media excellence as part of the review process.
PERFECT PREPARATION - FOR A SMOOTH PROCESS
A good media pitch consultant is committed to doing the 'heavy-lifting' in terms of pitch preparation and management, alleviating the burden of pitch workload from the client and allowing them to focus on their day jobs and manage their on-going business requirements and minimizing, as much as possible, any internal disruption.
MINIMIZING DISRUPTION
The reality is that expert media pitch management support, if used properly, can add enormous value, helping any advertiser run a serious and well-considered media agency review.
The stakes have never been higher when it comes to competitive media reviews. Brands that approach it in the wrong way risk significant damage both commercially and reputationally. For those advertisers that get it right, the ability to drive massive media value enables media to truly act as a lever for business growth and secure long-term competitive advantage.
Here are 3 quick tips for hiring a pitch consultant:
Objectivity and Reputation - Be uncompromising in assessing and evaluating the reputation, independence and objectivity of any potential pitch consultant. As architects of your review, your pitch consultants must have an impeccable reputation to be able to truly assume guardianship over the integrity of the pitch process.
Capability and Experience - The experience, skills and technical requirements required to design and manage a strategic media review are completely different from those needed simply to run a cost driven pitch process. Interrogate your candidate pitch consultants to understand what makes them uniquely qualified to interpret your ambition for media and requirements from a media agency partner into an informed, well structured and value-driven media review.
Preparation is Key - Every good pitch consultant should appreciate that they will be investing the majority of their time and effort into the preparation stage. The higher the intensity and delivery in the preparation stage, the smoother and more effective the process. Dismiss immediately any pitch consultant that suggests its good practice to compromise or shortcut the preparation stage, the only guaranteed result this compromise will affect will be a flawed process.
To make evaluation process easier, we created media consultant evaluation checklist. This checklist will help you to evaluate submissions from media consultants and allow you to select the right partner.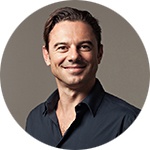 David Indo
David has spent the last 20 years helping brands solve their marketing challenges, both from an agency and client perspective.David's background means he really understands the pressures that senior marketers face within large brands and he appreciates the dynamics of their agency relationships and, crucially, knows what is required on both sides to get the best results.